Sept. 16, 2020 • E-news For Parents Only
Our historic reopening progresses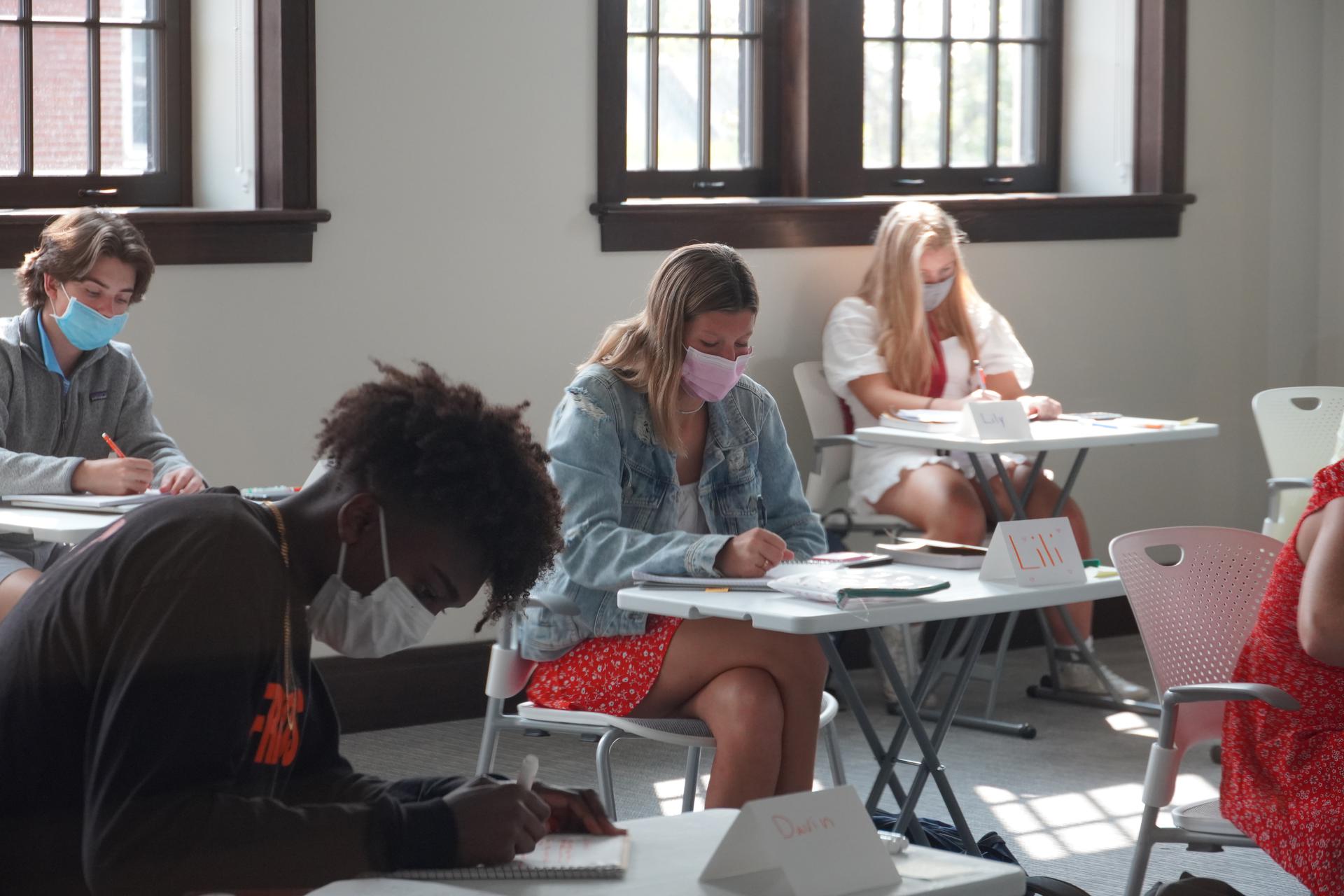 It was a landmark day on the Hilltop yesterday — our first day of in-person classes since early March — and what a wonderful sight it was to behold. Head of School Alixe Callen was a welcoming presence in the lobby of newly restored Memorial Schoolhouse as students found their way to new classrooms down one-way hallways across campus. Yesterday also marked the first day of in-person dining, with tables now open for students to gather for meals in King Hall and the Hamblet Campus Center.
Looking ahead, our next reopening step will be to allow students to gather socially with their friends from other dorms during unstructured downtime. In order to move to that next stage, we need to see better compliance with masks and social distancing. Please encourage your students to always wear their masks and stay socially distanced so we can reach that milestone soon!
Pictured above: Sarah Harding's Expanding Horizons English class reviewed their reading notes on Trevor Noah's memoir, "Born a Crime," in preparation for a discussion on the impact of apartheid on his childhood.
Afternoon activities commence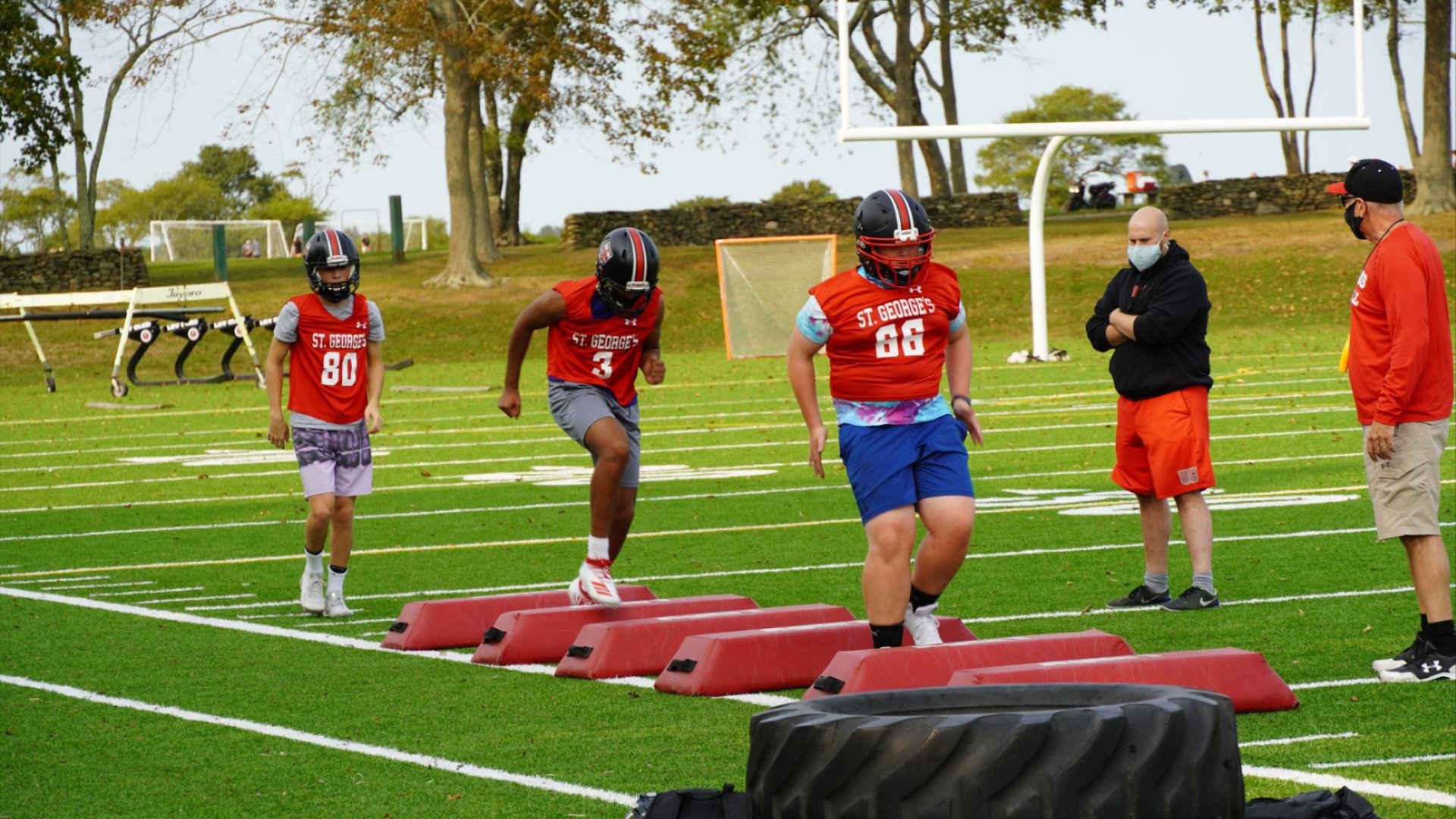 A vibrant afternoon activities program also got underway on Monday, with athletes back on the turf fields (above), the Surf Leadership team down at the beach — and a variety of training, wellness, and special interest programs taking place around campus.
We're committed to keeping our families informed! As such, we will begin a new series of regular webinars that will take place at the beginning of each academic mini-term. The first of these will take place this Sunday, Sept. 20, at 7 p.m. You may register here. Also, please feel free to submit questions via this form before Friday at 9 p.m. so that our administrative team can address them during Sunday's webinar.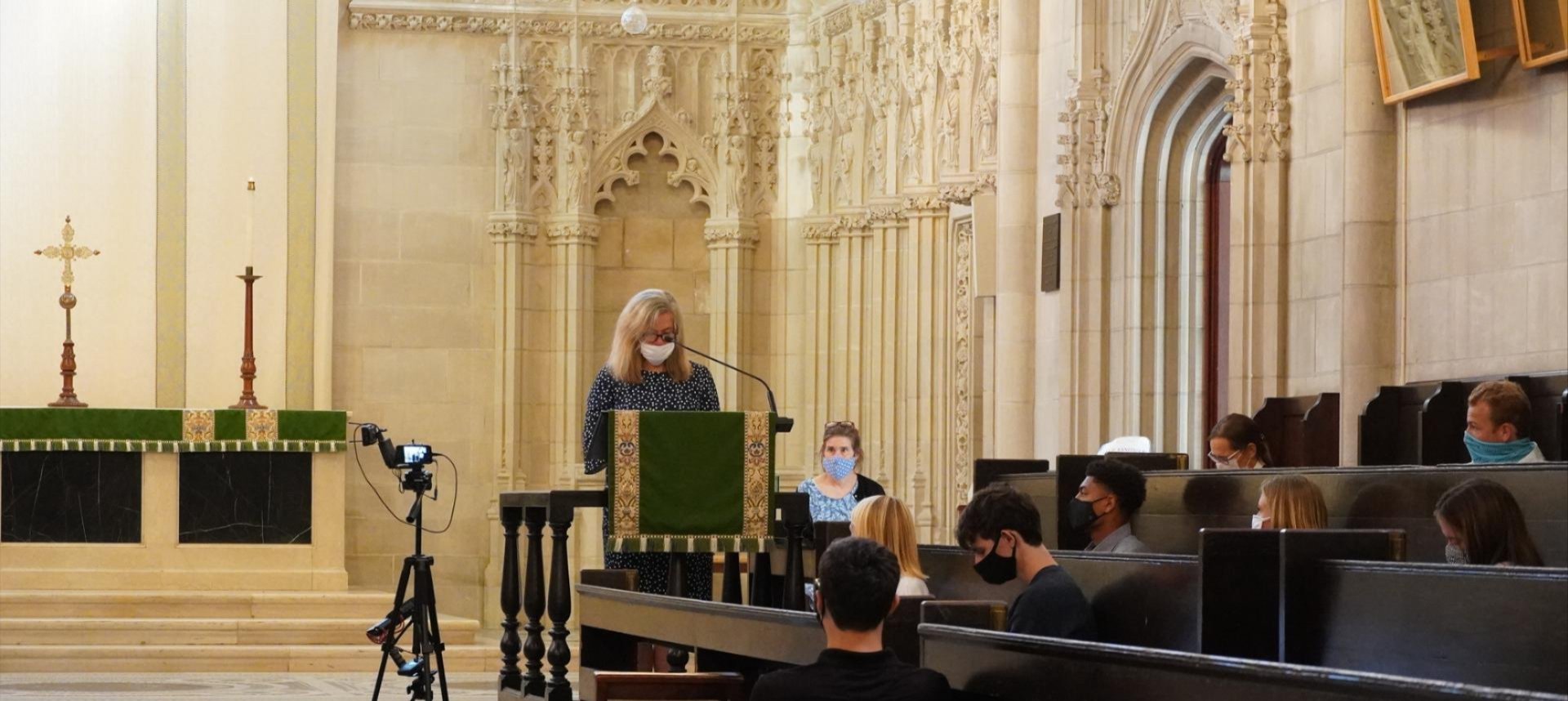 New faculty and student leaders attended yesterday's Convocation ceremony inside the chapel as the rest of the community watched the ceremony live on classroom screens around campus. In her 2020 Convocation address, Head of School Alixe Callen spoke about how students had to make changes in their daily lives during World War II and their commitment to their community, drawing parallels to the current worldwide situation. The address may be viewed
here
. Associate Head for Faculty and School Affairs Beezie Bickford introduced the new teachers, and we celebrated the academic accomplishments of our students with an announcement by Associate Head of School for Student Life Mervan Osborne of the latest Cum Laude Society inductees, prize recipients, and top scholars, which can be viewed on our website
here
.
Our signature St. George's Student Experience (SGSE) program kicks off a unique Diversity, Equity, and Inclusion program tonight, during which students and teachers will regularly have the chance to share thoughts and experiences as part of our ongoing efforts to foster an equitable and inclusive community here on the Hilltop.
The program features a curriculum largely created by students Zuriel Jimenez '23 and Alexander Gaines '23 with the guidance of the faculty members of the St. George's DEI Task Force. Tonight's topic is "Community Healing and Acknowledging Who's in the Room."
Other news from our classrooms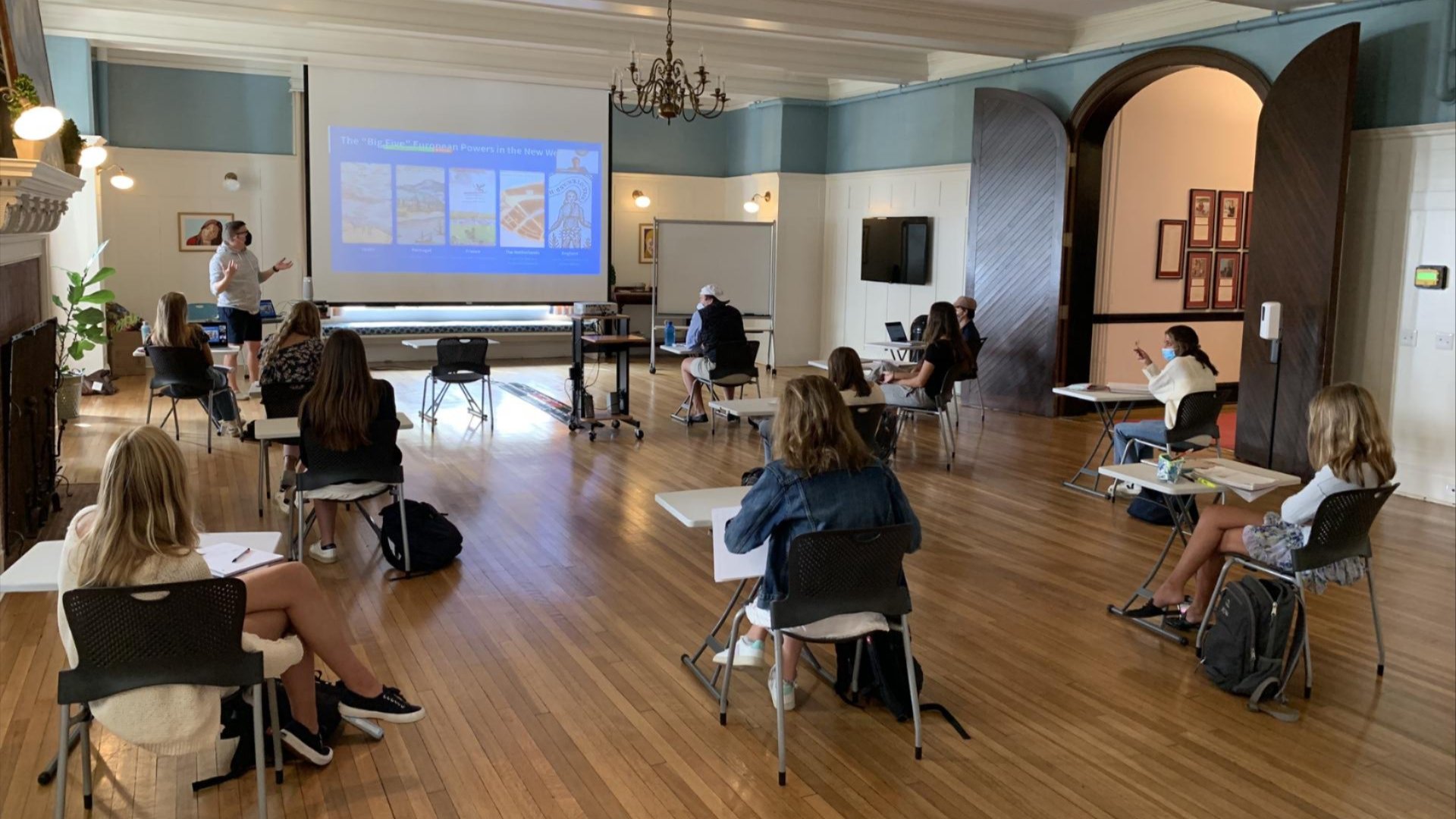 Students explored the age of colonization in the Americas in teacher Justin Cerenzia's History: American Studies advanced class, examining different experiences from the Spanish, Portuguese, Dutch, French, and English perspectives. The discussion followed last week's consideration of the indigenous experience. "This led to a consideration of Richard White's 'middle ground' concept as well as an interpretation of frontiers of inclusion versus frontiers of exclusion, as culture collided and worlds were transformed by the Columbian Exchange," Mr. Cerenzia said.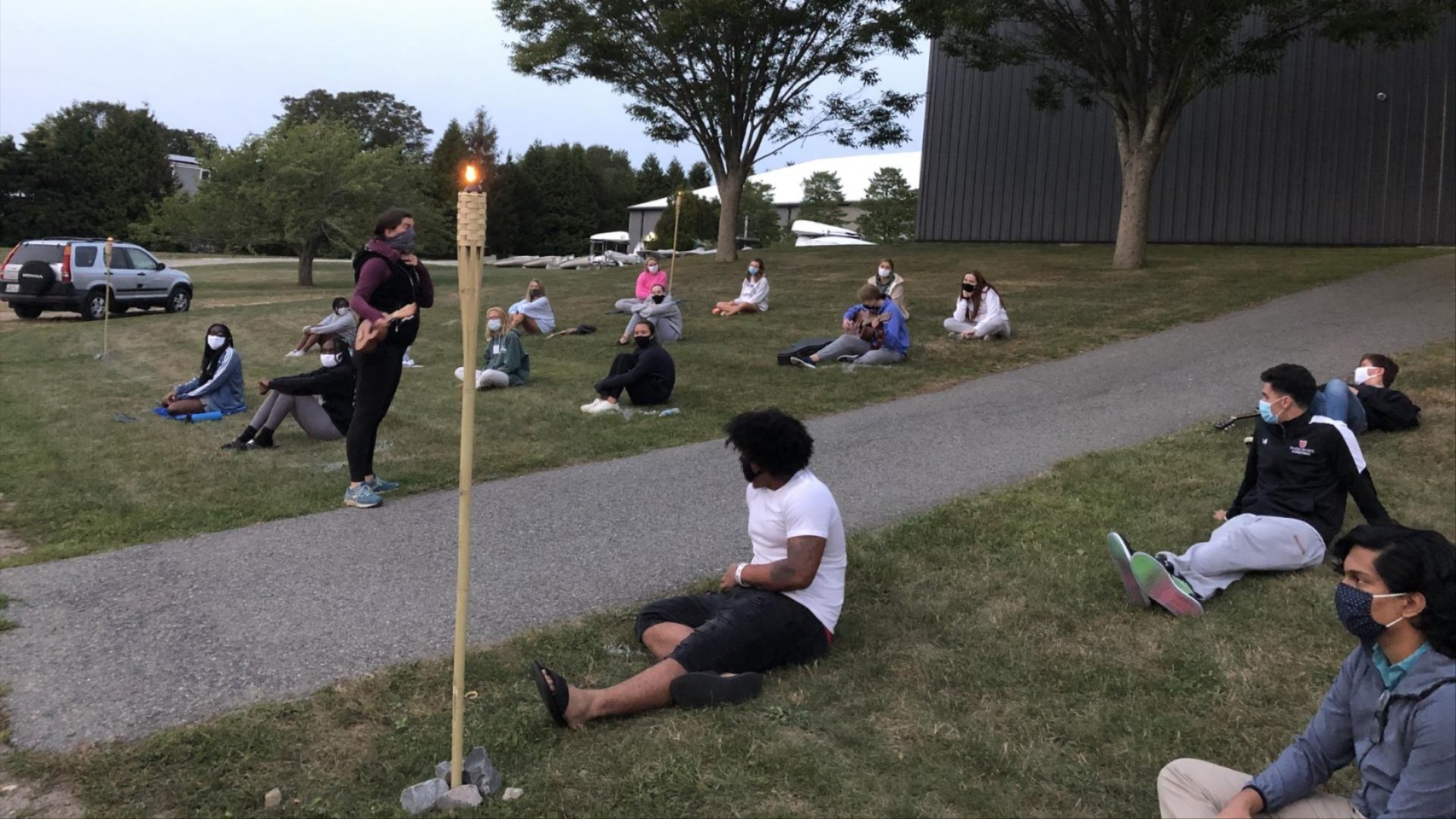 Vocal ensemble rehearsal started last night with announcements and an introduction by Music Director Dr. Kate Longo. Singers got together in person for the first time this year, remaining masked and physically distanced from one another. It was the first time the group got to sing since parting in March. "The ensemble welcomed three first-year students as well!" reported the Music Department.
Tomorrow is our first student chapel talk of the school year, which will be given by Senior Prefect Makai Murray. We'll continue to host student talks in the Chapel Talk Portal, which will be uploaded in the days after.
• Fall Geronimo departs: Sept. 21
• 2020-2021 Term 2 begins: Sept. 21
• Honor Chapel: Sept. 29