Sept. 9, 2020 • E-news For Parents Only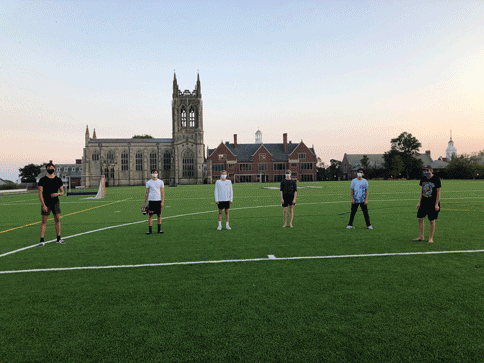 The beautiful Labor Day Weekend was a great chance for our early-returning students to get outside and enjoy some salty fresh air with their pod-mates. We've added more photos of our physically distanced Hilltop happenings to our Flickr gallery here. Thanks to Ms. Bickford and Mr. Osborne for their camera work!
All of us are now eager to welcome our remaining students back to campus. Tomorrow is registration for day students, and Thursday and Friday are move-in days for our returning boarders. In-person classes begin on Monday, and Head of School Alixe Callen told students in her weekly memo that we hope to start afternoon activities that day as well.
Form-based meals in King Hall and the Campus Center will begin on Tuesday, and once we have all results back from the latest round of coronavirus testing, students will be able to connect across dorm-based groups — as long as they maintain campus protocols for mask wearing and social distancing. We'll report those overall testing results to families early next week.
• Faculty members participating in our fall Diversity and Inclusion Book Series (DIBS) group will read "The Vanishing Half," a novel by Brit Bennett, and "Caste: The Origins of our Discontents" by by Isabel Wilkerson.
• Our Beloved Community initiative is set to return this year with the opening chapel service scheduled for Oct. 1. The goal of this year's speaker series is "to engage students in constructive conversations about racism, anti-racism, and white privilege through first-person narratives, research, and the history of SG," said Director of Equity and Inclusion Dr. Kim Bullock.
Academics news: Hill Library expands outside

Even with the Hill Library serving as a protected home base for day students this fall, all students will still have access to the library's wealth of resources. The library's research databases are available online, and boarding students will be able to request books, periodicals, and movies, which will be placed outside for pick-up. The librarians — Laura Hooper, who became Director of the Library & Archives this year, and Kate Fox, Associate Director of the Library & Archives — also will be staging frequent
"pop-up" libraries
, so students and campus families can stop by carts outside the building to browse the latest acquisitions. In addition, the library staff continues to stage themed books exhibits and to offer their research expertise to classes via Zoom.
Welcome new faculty members!
We welcomed another two new faculty members this week. Mr. Scott Brown joins us as the boys' squash coach, girls' tennis coach, dorm parent, and teaching assistant. Ms. Kaitlin Lawrence is our new theater teacher and director of drama productions.
Extracurriculars are up and running

A host of SG clubs and groups like the Red & White student newspaper and the Sustainability Club have begun the yearly tradition of introducing themselves and meeting up, this fall in virtual settings. That includes our Dragon singers and instrumentalists (above), some of whom met with the Drs. Longo (Kate and Bill) and Assistant Director of Music Wendy Drysdale over Zoom last night.
• The Mail Center kindly requests families to please add your student's dormitory name to their address when sending packages to campus.
• Convocation: Sept. 15
• Fall Geronimo departs: Sept. 20